GB Time : 14 November - 1 December
Expected Delivery From Keebsmark Q1 2024

Zoom75 / Zoom98 / ZoomPad
We Provide Barebone kit aka Essential Edition/Special Edition (These are unassembled DIY kits that inctude stabilizers but no switches or keycaps);
Keycapless Edition (come fully assembled and ready to use, just without any keycaps. They are built with WS Morandi switches and lubed WS V3 stabilizers) to be chosen.

7+2 Colors for Chosen
Black/E-White/Sky Blue/Strawberry Icecream/Milk Tea/White/Lavender
New color for this GB: Space Grey
Special edition by Teacaps x Meletrix
Surprised BFCM Bonus of Zoom GB will be available at the sametime! Don't miss out!
Gasket Slip Design
Stability, ease of installation, durability, and long-lasting flexibility come together seamlessly.
Per-Key RGB
The Tri-Mode PCB enables per-key RGB lighting, offering a diverse selection of colors and effects to enhance your visual experience. It is compatible with wired, wireless, and 2.4GHz modes, except for the wired PCB which lacks this feature.

NOTE: Telescope Logo Design instead of Dot RGB Design.
Knob Compatibility
The Knobs are compatible with ZOOM65/75/PAD series, and lovely Spinny Friends knobs also as an add-on option. Featuring a cute animal pattern design, they offer a unique companion for your keyboard.
Lubed & Assembled Stabilizers
For all Keycapless Edition Keyboard, we will provide stabilizer lubrication and keyboard assembly services for you
Lubricated Stabilizer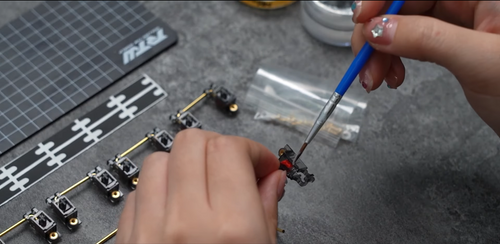 Installed Stabilizer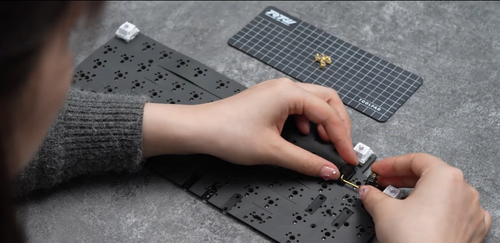 Installed Switches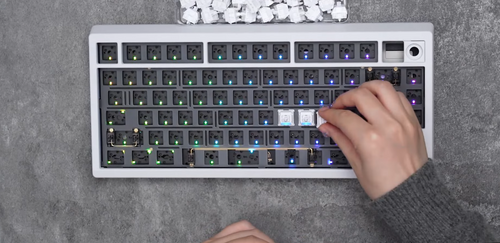 Product Specification
| | Zoom98 SE Anodized Lavender | Zoom75 Essential Edition - Sky Blue | ZoomPad Essential Edition - Strawberry Icecream |
| --- | --- | --- | --- |
| Mounting Style | Gasket Mount | Gasket Mount | Gasket Mount |
| Typing Angle | 7.7 | 5 | 5 |
| Front Height | 22mm | 22mm | 22mm |
| Case Material | Aluminum | Aluminum | Aluminum |
| Default Plate | PC | PC | PC |
| PCB Thickness | 1.2mm, with Ai03 DB | 1.2mm, with Ai03 DB | 1.2mm, with Ai03 DB |
| PCB Version | Tri-mode | Tri-mode | Tri-mode |
| Connection Methods | Wired/Bluetooth/2.4G | Wired/Bluetooth/2.4G | Wired/Bluetooth/2.4G |